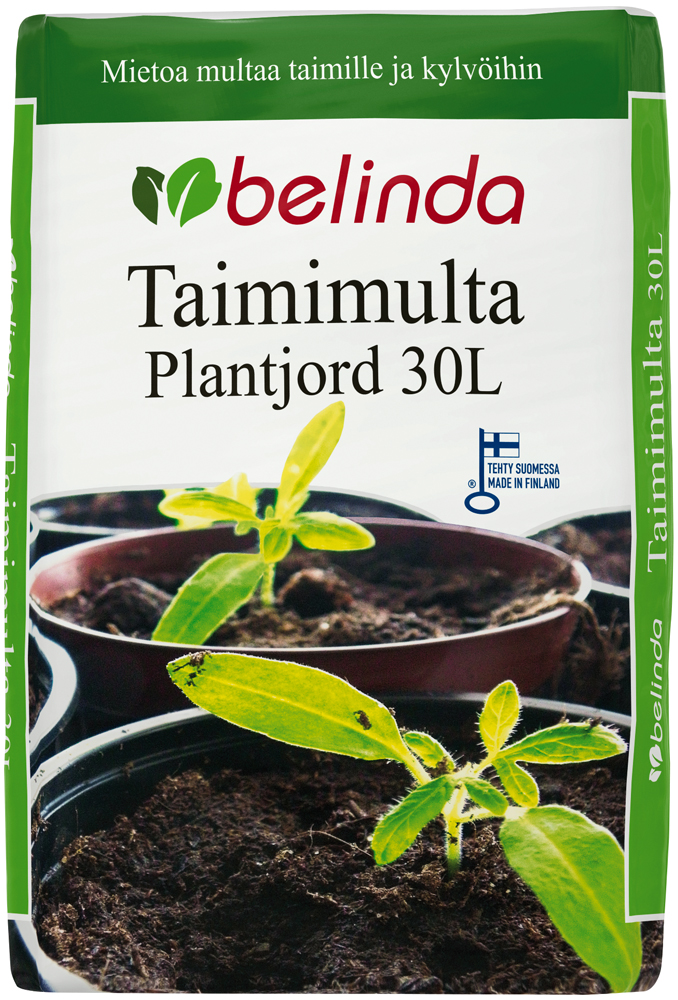 Belinda Seedling Mix is ideal as a substrate for all plants during the delicate seedling stage.
Belinda Seedling Mix is a limed and mildly fertilized soil mix for seedling cultivation and sowing. The structure of the seedling mix is such that it is highly permeable and binds nutrients well. This is why this soil is ideal as a substrate for all plants during the delicate seedling stage. The seedling mix is also free from plant diseases and weeds. The soil is also suitable for use in small flower pots and cell trays. Start additional fertilization of the plants a few weeks after the sowing.
Package size:
30 litres, 80 bags/pallet
Recommended use:
• For seedlings
• For sowing
Use:
Sowing seeds:
Always use clean equipment and pots. Make sure there is a drainage hole in the bottom of the pot. Spread the soil on the growing platform and water it. Smooth the soil layer by lightly pressing with your fingers, and sow the seeds. Cover the seeds with a thin layer of soil (plants that need light are not covered). Moisten the surface of the sowed area by spraying. Cover the sowed area with plastic film to ensure even moisture. Do not forget to ensure adequate oxygen intake. Holes punctured in the film ensure that air can pass through. The plastic film can be removed immediately after the seeds have sprouted.
Plant thinning:
The seedlings are thinned when the first leaves have grown. Water the sowed area the day before thinning. The plants are replanted in individual pots, or several seedlings into one container (leave about 5 – 10 cm space). Do not damage the roots of the plants. Water by spraying when necessary. Use clean and lukewarm water for watering. Use additional fertilization according to the instructions of the fertilizer concentrate. Familiarize the plants with the outdoor air before planting them.
Product details:
Type name: Packed potting mix:
Ingredients: Light sphagnum peat and sand
Coarseness: < 25 mm, sieved with a drum screen
Bulk volume: 30 litres (at the time of packing)
Additives: 8kg/m³ powdered calcite limestone
0.8kg/m³ Peat basic fertilizer
NPK 13-7-14 + trace elements
Conductivity: 25 mS/m
pH: 6.1
Nitrogen (N), water-soluble: 530mg/kg dry
Phosphorus (P), soluble: 80mg/kg dry
Potassium (K), soluble: 680mg/kg dry
Humidity: 53%
Volumetric weight: 450 kg/m³