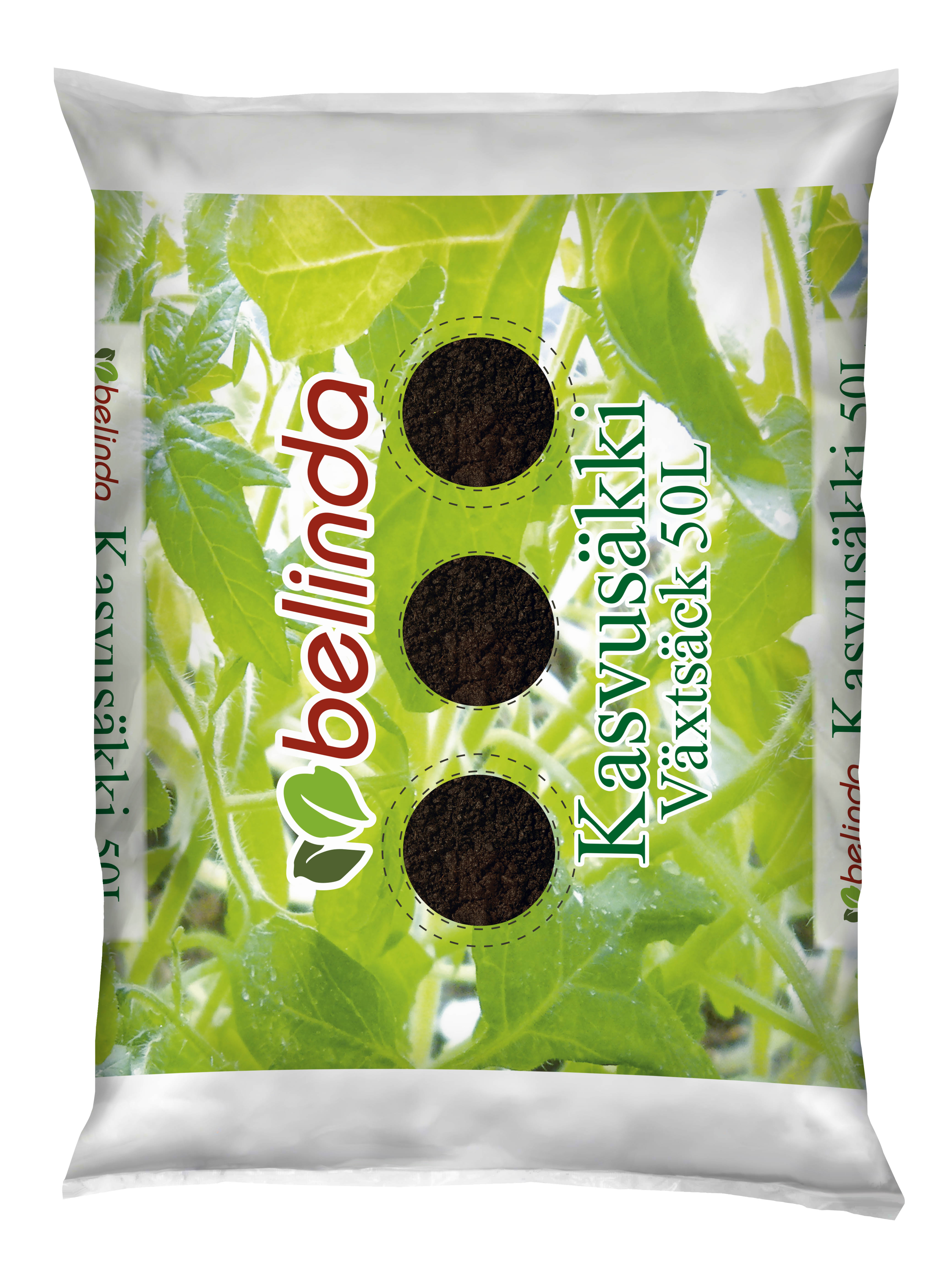 With Belinda Grow Bag, growing useful plants is easy.
Belinda Grow Bag is intended for gardeners for growing useful plants. The soil volume and nutrients in the grow bag have been measured to be sufficient for two large plants, such as tomatoes or cucumbers. Or for two smaller plants, such as bell peppers. The grow bac includes various types of peat sieved with a drum screen, and sand. In addition to the peat's basic fertilizer and trace elements, there is also an extended-release fertilizer in the bag, which will fertilize the plants throughout the summer. The bag includes growing instructions, and the designated planting locations have been marked on the bag. With these, growing useful plants is easy.
Package size:
50 litres, 60 bags/pallet
Recommended use:
• Cultivation of useful plants
Use:
• Start by making incisions to the bottom of the growth bag to allow extra water to drain away. A suitable amount is 8 x 10 cm incisions. Place the grow bag on a surface where water can drain.
• Cut the holes for the plants in the marked places, and plant according to the instructions. Water near the plant roots.
• If it becomes difficult to water the plants as they grow, you can cut 2 watering holes of about 5 cm to facilitate irrigation.
Product details:
Type name: Packed potting mix:
Ingredients: Light peat, Dark peat 10% sand 3%
Coarseness: Medium, sieved with a 60×40 mm screen
Additives: 0.95 kg/m3 Peat basic fertilizer NPK 13-7-14 + Trace elements
1.5KG /M3 MULTICOTE 4M NPK 14-6-12
Calcitic lime 7kg/m3
Nitrogen (N), water-soluble: 1.1g/kg dry
Phosphorus (P), soluble: 160 mg/kg dry
Potassium (K), soluble: 1400 mg/kg dry
pH: 6
Conductivity: 45 mS/m
Volumetric weight: 340kg m3